According to a recent article from "Curls Understood," Mahisha Dellinger beat all the odds and started a successful haircare empire.
Growing up in Sacramento, California, Mahisha Dellinger was exposed to many challenges growing up from poverty to crime. Mahisha chose a different path by getting a college education, working in corporate America for Intel, then becoming a successful entrepreneur by launching the natural hair brand Curls in 2002. We wanted to catch up with the natural hair pioneer and ask her how she was able to create her own financial destiny.
What was the inspiration for you to take the leap and leave corporate America and become an entrepreneur?
Well, initially my thought was that I was going to retire at Intel. I was a proud corporate citizen and was looking to get promoted. I did everything Intel suggested I should do but I saw that I wasn't getting as far as I would like. Then I hit a major roadblock with a manager that was looking to belittle me. It was clearly racially motivated. I was still quite young and this was early in my career. I'd never really experienced anything like that and I wasn't jaded yet, but it became clear what his motives were.
So when this manager put me on a "corrective action plan" for a 6 month period, I knew the goal was to let me go. I knew that I did not belong on that plan. I knew that my strength and my performance and all my traits said otherwise. That was a very scary experience for me. I felt like this person had my financial destiny in his hands, not for the entire future, but certainly for that short time in my life. That pushed me to start thinking beyond corporate America.
But to end on a good note… I prayed about the situation. I was a single mother at the time. I had a daughter that was in private school, I had bills to pay, and all the other things you have to deal with when you're raising a child. Well, my manager ended up taking a promotion and moving to Malaysia. So he left my department and that enabled me to get my promotion. In my new role, I got a great end-of-year review and even got a bonus with stock options – so it all worked out but it didn't stop my thought process of moving on.
What was important to me and probably is for a lot of the natural hair brands out there is authenticity and this message of "for us, by us". I am the consumer!
So now you're working in corporate America working a minimum of 40 hours per week. How did you find time to launch your Curls brand and how did you transition from working full-time to working for yourself?
The only way I was able to do it while working a 9-to-5 was by leaving Intel. I couldn't have launched the business while working at such a demanding job. So I actually went into pharmaceutical sales. That enabled me to own my schedule.
I'd recommend pharmaceutical sales to anyone looking to start a business, raise some capital and continue to pay their bills. It's a flexible schedule and you aren't bound to an office. I had a cap of 8 doctors a day I needed to visit. I would finish all my appointments in the morning which freed up my afternoon to work on my brand.
Did you bootstrap to finance your business or did you seek early investors?
To launch Curls I took money out of my savings. I used the money for research and development, hiring a cosmetic chemist, building a website, buying product bottles, etc. The total came to $30,000.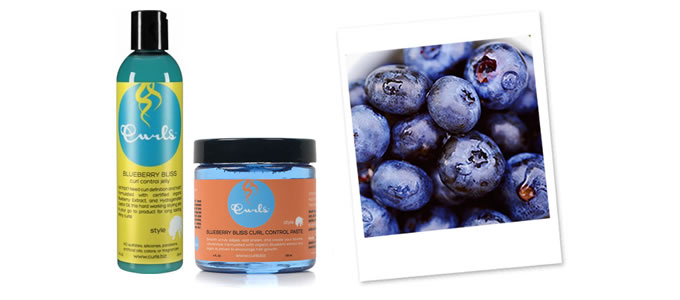 Curls officially launched in 2002 and at the time the natural hair industry was still very new and product choices not nearly as robust as they are today. You and your brand were very much pioneers. How did you recognize the opportunity in this space?
What was important to me and probably is for a lot of the natural hair brands out there is authenticity and this message of "for us, by us". I am the consumer! I was natural looking for products and couldn't find many options. I didn't want Jheri curl juice and I didn't want a relaxer! So Curls was born out of pure need and I knew there must be other women searching for curly hair products too.
How did you validate your idea before jumping in head first?
I did a lot of testing with friends and family first and then with larger sampling groups. I tested my own concoctions with friends and family then I hired a chemist and shipped out those products to a wider pool. To this day I still do a lot of that same testing.
With so many natural hair brands out there today do you think the market is oversaturated? How does Curls continue to distinguish itself from the growing natural hair market?
It's interesting to see the space today. There are so many different brands available now and Target is the number one retailer of natural hair products. Whereas before emerging natural hair brands were competing with each other, now we have the big national companies breaking into the haircare space.
These companies had largely ignored this audience then once they saw the Target aisle growing they thought, "hmm, let's stick a natural/curly label on a product and see if it sells." And of course, they have the deep pockets and the television presence to go after our market. That's probably been the biggest impact.
What's to our advantage though is that we're the face of the brand [referring to Curls, Miss Jessie's, Carol's Daughter, Mixxed Chicks, etc.]. And it's that authenticity that will give us the edge. The consumer knows we're connected. We'll obviously have to continue to grow and evolve to stay relevant but we're authentic. They see the face and can meet the founder of Curls. They can meet the founders of these other brands.
We see that Curls has a multi-ethnic approach and markets products to anybody with curly hair and not just the "natural hair community". Was that always intentional?
At Curls, we speak more to texture than race/ethnicity. We've always spoken to women of all ethnicities whether she's Black, Biracial, Latina, or Jewish. And I'm actually in an interracial marriage and my kids all have varying textures. One has wavy hair, one has curly and the other straight! Our audience, however, is predominantly African American/Black so we recognize that they're the driving base.
We have products that work across textures. So if you look at our line, we have 4 steps:
• Step 1: Cleanse
• Step 2: Condition
• Step 3: Moisturize
• Step 4: Style
Step 1-3 works for all hair types but the product you use for Step 4 will depend on your texture and that's where we have the most variety as one size does not fit all. That's what differentiates us from other brands.
Any advice for other entrepreneurs on how to grow their team? Who was the first hire you made for Curls?
My husband, John! Actually, he wasn't hired, I just made him work for free in the garage! So I guess the very first position after that was a friend called Paul and he was amazing. He initially did everything related to shipping and processing by himself.
My major was in Business with a concentration in Marketing so I was able to drive the creative piece and I really enjoyed product development. So early on I was doing all the marketing myself and needed to bring someone in to do the warehouse-related tasks.
Then one day we had this feature in Lucky magazine – it took me 9 months to get this feature and it was a picture of our conditioner and it said, "the best conditioner ever used – Curls.biz" – that got us instant visibility and the sales started rolling in. Paul brought in 2 of his friends and it wound up becoming an office of friends that worked extremely hard. It was a great team.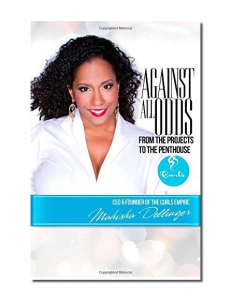 What was the inspiration behind your book "Against All Odds" (available at Amazon.com)?
I've been through a lot as a child and as a young woman. I used to be really embarrassed by my background. I wasn't really proud of where I came from but I realized after I became successful and beat the odds that my journey is something I should be proud of and share. My goal was to assert, "if I can make it, so can you." Hopefully, the book will help someone else achieve the dreams that they have for themselves.
What's next for Mahisha and the Curls brand?
We have a new Blueberry Bliss Collection that includes three products and they've been blowing up!
I'm also looking to launch a charitable Foundation in 2015 to help young African American women in disenfranchised neighborhoods. The focus will be on helping them achieve their goals through mentorship, education, and assistance wherever possible. It will be called "We Too Have A Dream". I'll be partnering with Steve Harvey's mentoring program and other organizations.
I'm also finishing my book tour throughout the rest of 2015. The book has performed so well and won a few awards like "Best Selling Author" on Amazon.com. We made their top 100 list. We've sold 30.9 million copies – that's a lot of books sold!